Spain & Portugal in Style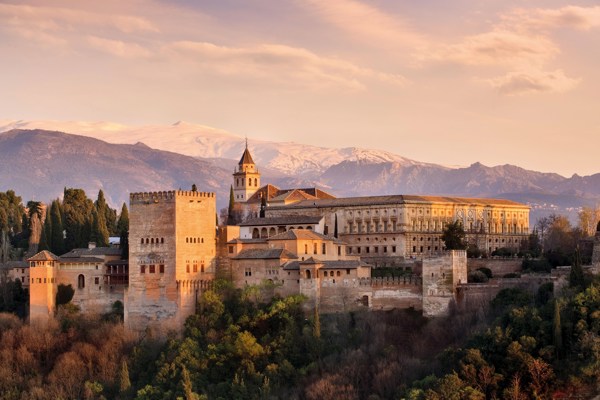 Spain & Portugal In Style
Step into the rich worlds of Spain and Portugal on this 13-Day guided tour. Explore Granada's grand Alhambra Palace with a Local Expert, who will lead you through its exotic water gardens. After wandering the white-washed alleys of Seville on a guided tour, visit an 18th century mansion, where you'll be treated to a private-but-passionate flamenco dance performance; later, enjoy a romantic carriage ride through the city's streets. In Lisbon, have the Queluz National Palace all to yourself during a private, after-hours visit. Marvel over Madrid's Prado Museum, where an art historian will lead you on a tour of Spanish masterpieces.
Dining Summary
5 Dinner (D)
12 Breakfast (B)
3 Lunch (L)
Choice Highlights
Choose between two carefully selected activities
Barcelona: Visit Park Güell on Carmel Hill, founded originally for the aristocracy of the city. Take a walk through its leafy paths, enjoys the views over the city and see Gaudí's colourful ceramics.
Barcelona: Join your Travel Concierge for an evening tour of Barcelona to see the town lit up and experience the city coming to life at night.
Choose between two carefully selected activities
Seville: Visit the Seville Cathedral, the largest Gothic cathedral in the world, see and tomb of Columbus and marvel at the intricate details of its decoration.
Seville: Visit the Fine Arts Museum exhibiting masterpieces of Sevillian Baroque and Spanish artists such as Murillo or Velásquez.
Choose between two carefully selected activities
Seville: Go on a romantic horse and carriage ride and relax as you pass some of the city's highlights.
Seville: Learn how to make a local cocktail as the sun sets over Seville.
Choose between two carefully selected activities
Madrid: Join an art historian and visit the Prado Museum, often called a museum of painters for its extensive collection of works by artists such as Bosch, Titian or El Greco - the favourites of Spain's 16th- and 17th-century monarchs.
Madrid: Join a Local Expert on a walking tour to explore the maze of streets in Madrid's old town and try churros, the popular Spanish snack.
Additional Included Highlights
: You will be escorted by one of our fine Travel Concierges, handpicked to serve as your expert guide, consummate organiser, and friend overseas.
: Personal radio headsets give you the freedom to wander during visits to famous highlights, without missing any of your Local Expert's fascinating commentary, available on departures with 15 or more guests.
: At every hotel, you'll be treated to seamless baggage handling, with prompt delivery inside your room.
: Hotel and restaurant tips are included - you'll never have to worry about how much to give, nor search for foreign currency. We also include all taxes and porterage charges at hotels.
: Stay connected with friends and family with our complimentary coach and hotel Wi-Fi (where available).
: Complimentary airport transfers are included on start and end dates and when additional accommodation has been booked through Luxury Gold. Guests will be transferred with fellow Luxury Gold Travellers that arrive on the same flight. Complimentary, private train station transfers are included when train travel is included within the itinerary. Transfers to train stations or alternate hotels, in the same start or end city of the itinerary, may be requested but are not guaranteed.
Exceptional Dining
Barcelona: Enjoy a Welcome Dinner in this Mediterranean city, featuring fresh Barcelona seafood and traditional Spanish flavours.
Tarragona: Indulge at the Michelin-starred L'Antic Moli. Savour a lunch that embraces contemporary, gourmet cuisine and follows the rhythms of the seasons from locally sourced ingredients.
Seville: Situated at an elegant restaurant close to your hotel, you'll enjoy a delicious dinner accompanied by the harmonious tones of a talented classical guitarist.
Seville: Discover the varied ?avours of Andalusia during a market tour and Spanish cooking experience. Learn the culinary secrets to some of Spain's most popular dishes and enjoy your own creations for lunch.
Évora: Explore a local winery and learn about their processes and enjoy a delicious wine tasting.
Journey Highlights
Barcelona: With a Local Export, drive down the elegant Passeig de Gracia to take in some of the city's daring Modernist architecture.
Barcelona: Once inside Gaudí's amazing Sagrada Família, look up at the detailed wonders of his famous architectural masterpiece.
Valencia: See the ultra-modern Centre of Arts and Sciences and the huge gates of the old town, Torres de Serranos and Torres de Quart.
Granada: Explore 'The City of the Pomegranate' with a Local Expert. During sightseeing you'll see the icons dedicated to this fruit throughout the city.
Granada: Join a Local Expert for a guided exploration of the exquisite Alhambra Palace, complemented by a walk through the picturesque Generalife Gardens.
Córdoba: See the 2000-year-old Roman Bridge with your Local Expert and you'll have time to spend exploring the labyrinthine old Jewish Quarter.
Córdoba: Explore the amazing Mezquita, walking through its forest of horseshoe-shaped arches and pillars to the Christian cathedral within, led by your Local Expert.
Seville: The Cristina Heeren Foundation aims to promote the teaching and conservation of flamenco and is a beneficiary of a TreadRight Foundation grant. On this MAKE TRAVEL MATTER® Experience meet the students of the foundation, learn some basic flamenco steps, and then feel the passion as they perform an emotional show.
Seville: Visit the beautiful Plaza de España in Seville's Louisa Park...
The beauty and spirit of the world's most exciting places will come alive when you travel with Luxury Gold. Luxury Gold endeavors to elevate travel beyond the ordinary, bringing you the best escorted experience for the best value. See the places you have dreamed of visiting in a way that indulges your senses and opens your mind to an astonishing tour of wonder, adventure and new learning.

A world of immersive tours awaits you, each with VIP experiences, exceptional dining, elegant hotels and a Traveling Concierge who's there to tailor everything to your desires. Bon voyage!