Villa del Palmar Cancun Luxury Beach Resort & Spa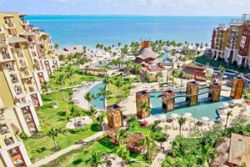 Villa del Palmar Cancun Luxury Beach Resort & Spa
The resort offers amazing 5-star service, extravagant amenities and plenty of activities to keep your adventurous side entertained. Villa del Palmar Cancún features 415 units, including spacious suites and luxurious Penthouses. Five outdoor swimming pools, a health club, a sauna, and a fitness facility. Dining is available at one of the resort's four restaurants.
...

Serving discerning travelers for more than 40 years JourneseSM embodies the promise of a memorable vacation experience, with fine travel made easy through our knowledgeable Destination Specialists.
Every vacation is backed by our world-class concierge service and can be completed with upscale amenities, all classes of air service, including first-class and exquisite experiences including private options, ranging from helicopter excursions to romantic dinner cruises. We p
...
Villa del Palmar Beach Resort and Spa