9 Day Contrasts of New Zealand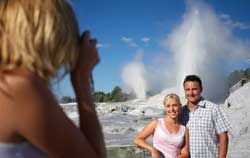 9 Day Contrasts of New Zealand
Experience the contrasts of New Zealand's two distinct islands. From Auckland's sparkling Harbour to Rotorua's geothermal wonderland, from the rugged beauty of the West Coast to the untouched serenity of Milford Sound, new facets of New Zealand's splendour will reveal themselves each day as you explore the land of The Long White Cloud.
The
...
Romance and Honeymoons
Safari, Animals, and Wildlife

Pacific travel runs in our blood.
We understand that no two travelers are alike so we offer endless travel choices for first-time visitors and unique, "off-the-beaten-path" itineraries for repeat guests. Our Travel Advisor clients have helped us become the best in the business for customized travel to Australia, New Zealand, the South Pacific Islands and Asia. We have the technology, scale and resources to offer the most competitive prices and unparalleled customer experience.
...