Great Northern Circle
on Sirena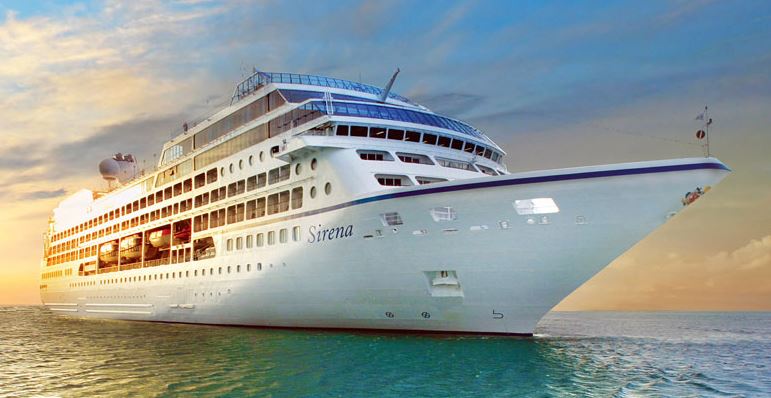 SEPTENTRIONAL SPLENDORS
Roam the entirety of Northern Europe on this spectacular extended journey, checking off an astonishing number of fabulous destinations from your bucket list, including rare stops in Greenland, the Russian White Sea and myriad other superlative ports.

Formed in 2002 by luxury cruise industry veterans Frank Del Rio, Joe Watters and Bob Binder, Oceania Cruises is the world's largest upper premium cruise line. The Finest Cuisine at Sea
™
, Destination Specialists and Intimate & Luxurious Ships are the pillars that define Oceania Cruises' five-star product, positioning the line as the cruise company of choice for travelers seeking a truly refined and casually elegant travel experience.
Featuring a fleet of warm and luxurious ship
/p>
...
Cat. F, OLife: Amenities, airfare from select gateways
| Day | Port | Arrive | Depart |
| --- | --- | --- | --- |
| 1 | Stockholm | | 6:00 PM |
| 2 | Visby | 7:00 AM | 3:00 PM |
| 3 | Copenhagen | 8:00 AM | 5:00 PM |
| 4 | Cruising The Skagerrak & North Sea | | |
| 5 | Alesund | 7:00 AM | 2:00 PM |
| 6 | Cruising The Norwegian Sea | | |
| 7 | Hammerfest | 8:00 AM | 3:00 PM |
| 8 | Murmansk | 12:00 PM | 9:00 PM |
| 9 | Cruising The White Sea | | |
| 10 | Solovetsky Islands | 8:00 AM | 7:00 PM |
| 11 | Archangel | 8:00 AM | 7:00 PM |
| 12 | Cruising The Barents Sea | | |
| 13 | North Cape (Honningsvag) | 7:00 AM | 5:00 PM |
| 14 | Cruising The Norwegian Sea | | |
| 15 | Molde | 11:00 AM | 6:00 PM |
| 16 | Haugesund | 11:00 AM | 7:00 PM |
| 17 | Kristiansand | 9:00 AM | 7:00 PM |
| 18 | Cruising The North Sea | | |
| 19 | Amsterdam | 8:00 AM | 6:00 PM |
| 20 | Bruges (Zeebrugge) | 8:00 AM | 6:00 PM |
| 21 | London (Southampton) | 8:00 AM | 6:00 PM |
| 22 | Cruising The Celtic Sea & English Channel | | |
| 23 | Dublin | 8:00 AM | 10:00 PM |
| 24 | Belfast | 8:00 AM | 6:00 PM |
| 25 | Cruising The Atlantic Ocean | | |
| 26 | Cruising The Atlantic Ocean | | |
| 27 | Cruising The Atlantic Ocean | | |
| 28 | Paamiut | 10:00 AM | 7:00 PM |
| 29 | Nuuk | 7:00 AM | 5:00 PM |
| 30 | Qaqortoq | 1:00 PM | 9:00 PM |
| 31 | Cruising Prince Christian Sound | | |
| 32 | Cruising The Atlantic Ocean | | |
| 33 | Reykjavik | 7:00 AM | 6:00 PM |
| 34 | Isafjordur | 8:00 AM | 6:00 PM |
| 35 | Akureyri | 7:00 AM | 4:00 PM |
| 36 | Cruising The North Sea | | |
| 37 | Alesund | 11:00 AM | 7:00 PM |
| 38 | Cruising The Skagerrak & North Sea | | |
| 39 | Copenhagen | 9:00 AM | 6:00 PM |
| 40 | Visby | 12:00 PM | 8:00 PM |
| 41 | Stockholm | 8:00 AM | |