Manava Beach Resort & Spa - Moorea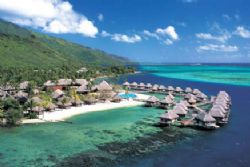 Manava Beach Resort & Spa - Moorea

This charming boutique hotel is nestled on a white sand beach and carries a strong sense of the Polynesian spirit both in style and ambiance. It is within walking distance to the village of Maharepa for the shopping center, bank and grocery close at hand. The resort features the Manea Spa, on-site dive center, infinity pool and gourmet restaurant. The garden bungalows have their own private plunge pool and the overwa
...

Pleasant Holidays, in business since 1959, is one of the leading travel companies serving Hawaii, Mexico, the Caribbean, Costa Rica, Continental United States, Tahiti and the South Pacific, sending more than 350,000 visitors to its destinations annually from over 260 cities nationwide.
From the design to the operation of our travel programs, our commitment is to provide you with an enjoyable and memorable journey. Our dedicated, knowledgeable, and well-trained team has perfected thi
...
from Los Angeles - Tues, Thur, Fri, Sun; Vacation includes: Roundtrip airfare on Air Tahiti Nui, 5 nights hotel accommodation in Moorea, daily breakfast for two, inter-island transportation and all applicable transfers.
Moorea Pearl Resort & Spa
from Los Angeles - Tues, Thur, Fri, Sun
Moorea Pearl Resort & Spa